1924-1980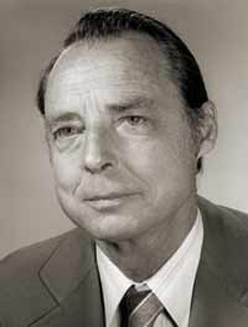 Professor Robert O. Lawton was born in Greenwood, S.C., in 1924. Before World War II, he attended Wofford College in South Carolina. His education was interrupted by the war and he went into the Army where he rose to the rank of Sergeant in the Infantry, sent to Germany and was wounded in combat. He received the Distinguished Service Cross for his "singular action, outstanding courage and extreme devotion to duty." He returned to Duke University, where he received his A.B. Degree in English in 1946, his M.A. in 1947, and his Ph.D. in 1949.
Professor Lawton joined The Florida State University faculty in the fall of 1949 as an instructor in the English Department. In 1952, he moved to FSU's Campus at Eglin Air Force Base as the Director of the University's Armed Forces College (the Bootstrap Program). He directed a similar program at Ramey Air Force Base in Puerto Rico for two years and then returned to campus where he was made the Director of the entire Bootstrap Program and an Assistant Dean of Arts and Sciences under the direction of Dean Paul Reynolds. He was later named Associate Dean of the College of Arts and Sciences and was promoted to Dean in 1966. He was Dean of the College for the next six years, resigning in December of 1972. He returned to the Department of English where he taught and completed a book on playwright Francis Beaumont. Professor Lawton's teaching can be summarized by one brief quote from a former undergraduate student, "I will never forget him. Before I was exposed to Lawton, I believed in God and Bach. After Lawton, it was God, Bach and Shakespeare." In 1977, he once again joined with the University Administration where he served President Bernard Sliger as the Vice President for Academic Affairs and Provost.
During the time he served as Dean of the College of Arts and Sciences, Dr. Lawton received an Honorary Doctorate from Wofford College. He was inducted into Gold Key and Omicron Delta Kappa at The Florida State University. In 1973, he was named The Ross Oglesby Man of the Year.
Provost Lawton died as a result of a tragic automobile accident when en route to see his first grandson in Huntsville, Alabama, in August, 1980. He lived for eight weeks following the accident, dying on October 8, 1980.
His death was mourned by his many devoted colleagues and students. In the spring of 1981, the Award of University Distinguished Professor was renamed as the Robert O. Lawton Distinguished Professor Award in his memory.
---
Memories of Bob Lawton and the History of the Robert O. Lawton Distinguished Professor Award at FSU
Robert O. Lawton Distinguished Professor